Coops en Nieborg B.V. HOOGEZAND, Netherlands

Coops & Nieborg's primary activity is designing and building hatchcovers, tweendeck hatchcovers and hatchcover gantry cranes for ocean-going vessels. The company also offers post-sales support and maintenance, builds ship sections for shipyards world-wide and constructs to order for the aluminium and stainless steel industries. Technicians also carry out maintenance work in local industries. This Dutch company employs more than a hundred people at its production facilities in Hoogezand and Foxhol in the province of Groningen.

unselect all/select all
You have 0 products selected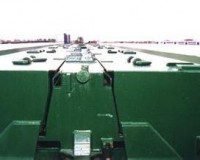 The covers move independently both of each other and of the coaming, thus enabling the entire hold to be opened. The hatchcovers can also be built abroad under licence and can be combined with a Dutch-built hatchcover gantry crane.